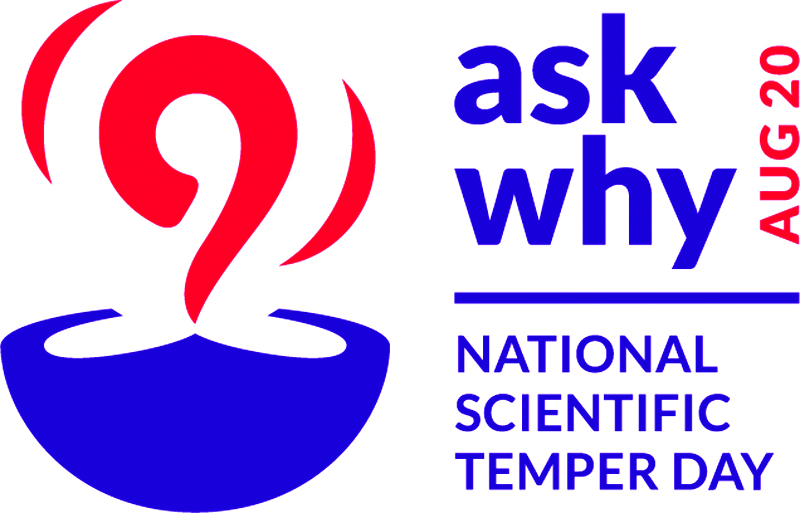 National Scientific Temper Day
20 August 2019
A pledge to promote scientific temper, critical thinking and plurality:
Click Here to Endorse the statement of National Scientific Temper Day from 20 August 2019
20th August was declared as National Scientific Temper Day (NSTD) at the 16th AIPSC of All India People's Network held in Feb., 2018 in honor of Dr. Narendra Dabholkar, champion of scientific temper, who was killed in an act of premeditated murder by right-wing communal terrorist forces, on this day in 2013. Maharashtra Andhshraddha Nirmulan Samiti (MANS), the organization with which Dr. Narendra Dabholkar was associated and with which he worked till his last day, was a joint signatory with the AIPSN in giving a call to observe, 20th August as the National Scientific Temper Day
The first NSTD, i.e. 20th August 2018 was a great success, with the programme titled, "Ask: Why" being linked with it. One important development that took place in NSTD 2018 was that many people, who were otherwise not connected with the AIPSN came out very forcefully for the defense of scientific temper. It shows that the support base for science and scientific temper is very wide and the NSTD was a timely decision, which many others supported, including many scientists who gave statements in its support. This year too, with the same still relevant slogan, the AIPSN will hold the NSTD with MANS and other likeminded organizations to expand it further as a growing movement.
The killing of Dabholkar shocked the nation, but more rude shocks came when several similar murders were inflicted by the same forces over the next several years. Govind Pansare, who worked to support inter-caste marriages, lectured on the real legacy of Shivaji, and condemned the glorification of the assassin of Mahatma Gandhi, was killed in 2015. M.M.Kalburgi, a scholar who studied socio-religious reform movements of the 12th century in Karnataka and the related history of religious movements, was murdered in 2016. And Gauri Lankesh, fearless journalist and fierce critic of communal bigotry, was gunned down in 2017. Some of these murders were probably committed by the same extremist group. But the common thread definitely was the threat the extremist forces felt from these campaigners for reason and the scientific temper and against bigotry and intolerance. The murders are extremist expressions of the intolerance openly displayed by some mainstream communal forces, including persons holding high political office, targeting sometimes with violence all those who question their bigotry, communal hate campaigns, and continuous dissemination of fake news, "alternative facts" and falsified histories, including in science.
 The growth of obscurantist ideas must be resisted. Opportunities like the Annular Solar Eclipse that will be seen on 26th Dec 2019 in Southern India and on 21st June 2020 in northern India must be used to dispel superstitious beliefs. We must celebrate these solar eclipse events as a people's festival with safe mass observation and mass dining in public areas.
The NSTD is also part of the Sabka Desh Hamara Desh movement, i.e the country is for everyone and everyone is for the country – the idea of the Unity of India which is a direct consequence of observing scientific temper in everyday life. That is, all citizens are connected and the country cannot be thought of without thinking about its citizens, neither prejudice or with favour to any group or individual. This also means equity for sharing the resources of the country as also of the globe.
This year the announcement of the draft National Education Policy 2019 (DNEP 2019) is a further blow to fostering scientific temper and the diversity of India. There many deep flaws in the draft, including centralization and its aim to impose a uniform culture, called the obscurantist "Hindi-Hindu-Hindustan" culture upon the whole country and making education part of a global industry where only privileged people will get access to quality education.
While promoting scientific temper, we note that it was a concept that emerged out of our freedom movement. India is a Union and all constituents of the union have equal rights in deciding the way the union is to progress. That is the spirit of our constitution. Unfortunately, that is being trampled upon and people of the country are being betrayed.
Developmental programmes are being formulated without significant S&T and other research inputs. Mega projects are being undertaken with no scientific inputs in the public domain. Development policies in industry and agriculture, in key infrastructure areas like energy, coal, oil and gas, power, transport and for basic needs like food, water and health are being driven by corporate interests with little concern for the poor or for the common citizen and without any public scientific debate. Environmental concerns are being systematically sidelined.
The systematic devaluation of S&T and research, and the suffocation of critical thinking in educational institutions and in society at large, will severely hamper the future of the country, especially of its youth in this knowledge era. It is necessary that the Government funding for public educational institutions and public investment on research in science and technology must be increased substantially.
We assert that promoting scientific temper, defending plurality, harmony and composite culture is a fundamental duty of all citizens, and especially of professional scientists and social scientists, as enjoined in the Directive Principles of our Constitution. The right and duty to question is basic, not only for science, but also for democracy.
Science has an important role to play today in defending democracy and the Indian Constitution. AIPSN appeals to all organizations, institutions and individuals committed to promoting scientific temper to come together for observing the National Scientific Temper Day, and working together in the days to come to defeat the ideology of communal hate politics and build an India of reason and humanity with well informed and empowered citizens.
It is essential that this onslaught on scientific temper, critical thinking and plurality, be vigorously resisted. The Ask Why campaign is to bring awareness as to why this attack is going on at an unprecedented way in the last few years and to bring about change.
I hereby endorse the statement of AIPSN released as a part of observing National Scientific Temper Day (NSTD) on 20th Aug.2019.